Date
Dec 30 2021
Expired!
Gallop in the Garden 4PM – 6PM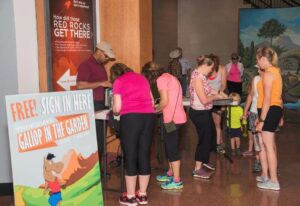 Join us every Thursday between 4:00 pm and 6:00 pm (times vary on/off-season) for the Gallop in the Garden 5K Fun Run! Meet in the lower lobby of the Garden of the Gods Visitor & Nature Center at 1805 N. 30th St., Colorado Springs, CO. We've mapped out some phenomenal routes (available below) through Garden of the Gods Park and Rock Ledge Ranch that start and end at the Visitor & Nature Center.
Milestone prizes begin after completing five events, so be sure to stop by the registration desk to look up your progress. After ten runs, Gallop in the Garden T-Shirts are available at cost for $10.
Important Info Before You Go
Sign in at the Garden of the Gods Visitor & Nature Center lobby
1 designated stroller route is available – Kids Welcome!
Dogs are welcome on leash only and please bring baggies to pick up after them!
Please dress appropriately for trails and weather
There is no bag check-in so please plan accordingly
Bring a Friend!
This is not a race, just a fun run and a way to enjoy camaraderie and the Great Colorado Outdoors in the #1 Park in the U.S.
*Note: Check-in credentials will be distributed on your first day at the Visitor Center after signing a liability waiver.
A Big Thank You to Our Sponsors!