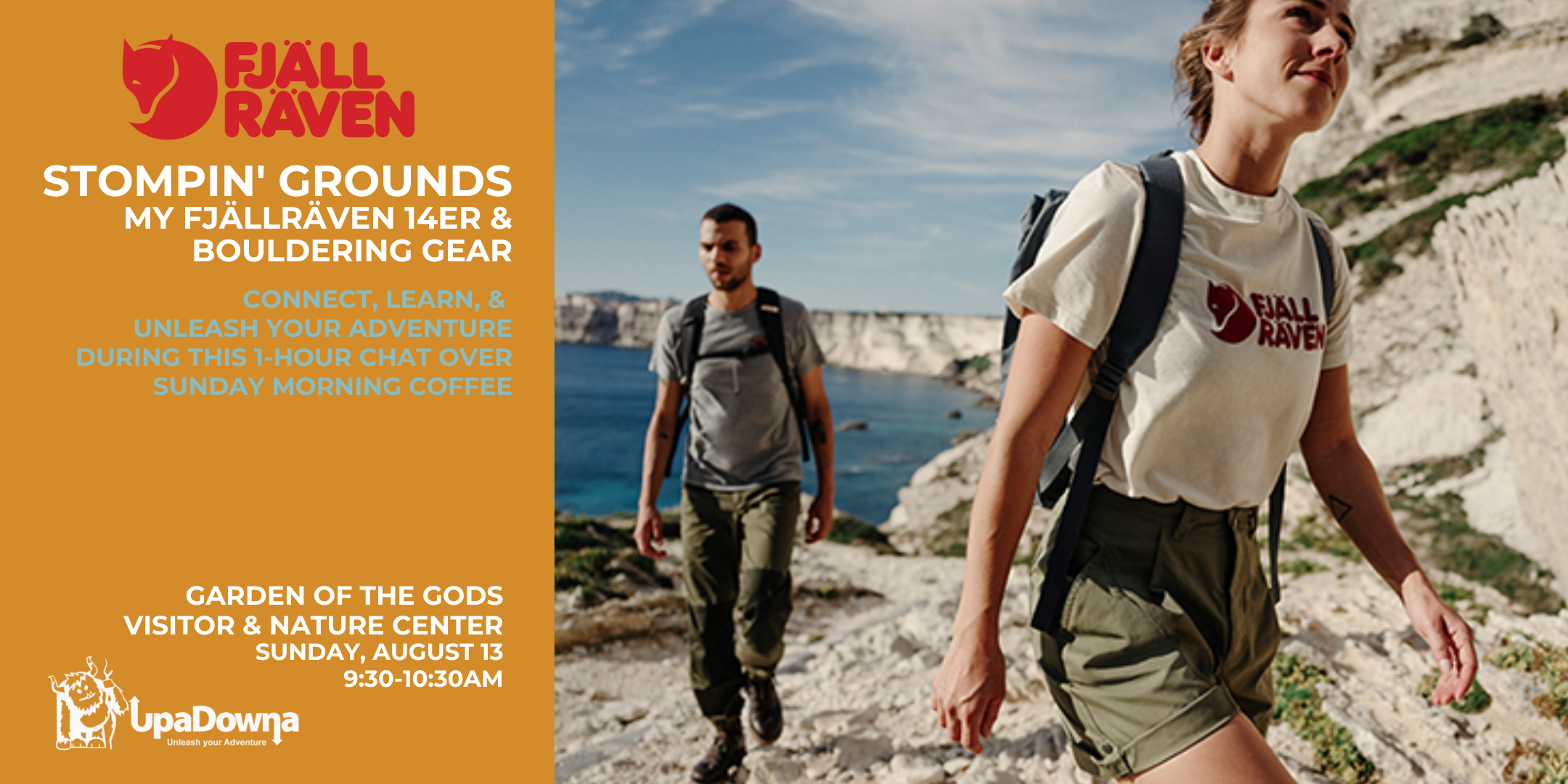 Date
Jul 30 2023
Expired!
Stompin' Grounds
Stompin' Grounds is a special community conversational series presented by UpaDowna, a 501(c)(3) nonprofit providing accessible adventures to El Paso County. Join us for Sunday morning coffee while connecting with your community, learning about outdoor-related topics, and carrying on UpaDowna's motto of unleashing your adventure! Outdoor industry leaders, professionals, and members of the community will engage in a 1-hour presentation to discuss various topics throughout the series.  About the Presenter: Fjällräven is an outdoor trekking apparel brand from Sweden, founded in 1960, with its US headquarters in Colorado. We develop functional, durable, timeless, and sustainably made gear to inspire people to walk with nature.
Haylee Fox, General Manager of Fjällräven Colorado Springs, and Eugene Kim, Assistant General Manager of Fjällräven Colorado Springs, will share their experience with Fjällräven gear while taking on Colorado 14ers and Bouldering.
The two main gear items Haylee will be highlighting and reviewing the features of will be the Keb Eco-Shell: a PFC free, highly waterproof shell jacket for protection from the rain and elements and the Keb Trouser: a G-1000 and stretch material technical trouser that is water resistant and highly durable while maintaining comfort and flexibility for good range of movement. The comfort, durability, and longevity of these products will be highlighted as well as the technicality of the materials and construction of the items and how those qualities translate to the needs of trekking a 14er as well as some personal anecdotes.
Eugene will share the two different varieties of Fjällräven trousers he uses while gym bouldering: the Bergtagen Stretch Trouser and the Keb Agile Trouser. Eugene chooses these trousers for their comfort, freedom of movement, and durability. He will highlight the Bergtagen Mountaineering Family as well as some of the materials and features of these trousers and how they relate well for climbing applications.
Tickets are available on a first-come-first-serve basis.
If you have any questions about this program, please email programs@gardenofgods.com