How Did Those Red Rocks Get There?
Travel through one billion years, in less than 15 minutes, in our Geo-Trekker theater! Plunge deep into the hot magma to see dinosaurs, ancient sea monsters, and more. Then, soar high above Garden of the Gods and observe some of the most awe-inspiring aerial footage in the world. This fascinating presentation is designed for general audiences and covers millions of years of local geology.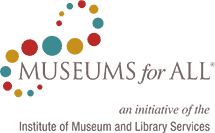 Museums for All
Museums for All is a national, branded access program that encourages individuals of all backgrounds to visit museums and cultural institutions regularly. Through Museums for All, those receiving food assistance (SNAP benefits) can gain FREE ACCESS to the Geo Trekker movie by presenting their SNAP EBT (Supplemental Nutrition Assistance Program Electronic Benefit Transfer) card.