Noxious weeds in Garden of the Gods 
Thirsty invasive plants that steal water from natural vegetation, grow quickly, and overtake recreational trails have infiltrated Garden of the Gods, a registered National Natural Landmark.
With 6 million visitors each year, the historic site has become vulnerable to the spread of noxious weeds through human and pet activity, said John Stark, manager of Garden of the Gods, a city of Colorado Springs-operated park.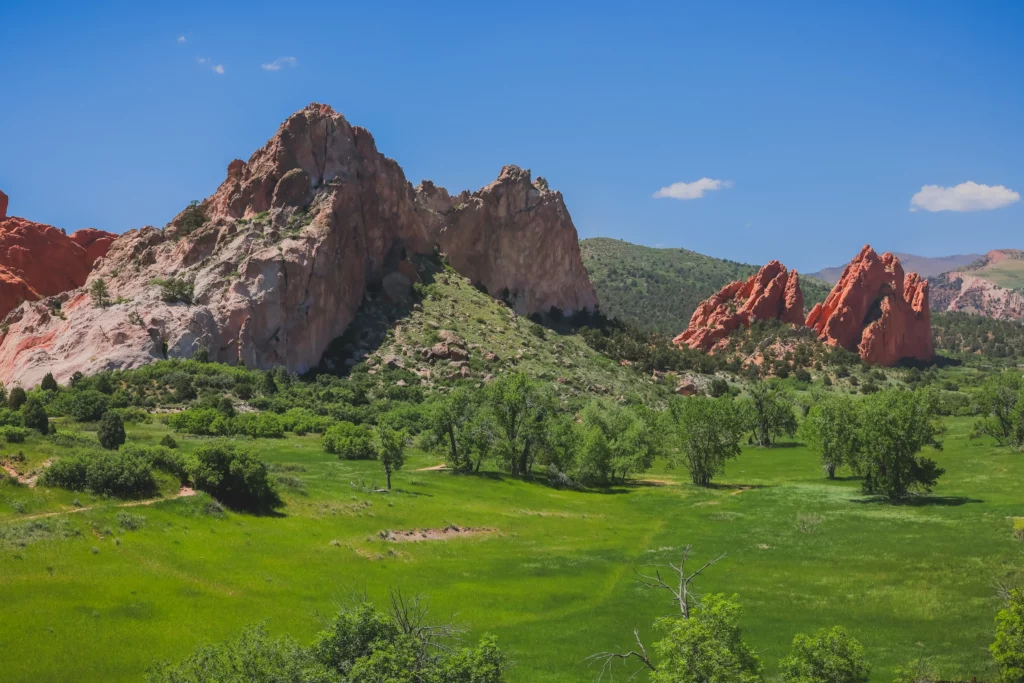 Great Outdoors Colorado, which annually awards grants using Colorado Lottery proceeds to benefit the state's parks, trails, wildlife, rivers, and open spaces, is providing $27,000 to help eradicate such weeds as Dalmatian toadflax, Canada thistle, myrtle spurge, and others from a 17.5-acre swath of Garden of the Gods and the adjacent Rock Ledge Ranch Historic Site.
"This is an outstanding project that merited a really competitive award," said Scott Segerstrom, executive director of the Colorado Youth Corps Association based in Denver.
"This is badly needed for such a high-impact, high-value natural resource in Colorado Springs and is going to be very impactful in keeping the ecosystem in balance."
Colorado Springs is receiving the grant for the funding cycle that began Wednesday, a cut of $500,000 that Great Outdoors Colorado awards annually to the Colorado Youth Corps Association for projects statewide.
Up to 10 members of the Mile High Youth Corps, one of eight conservation corps in Colorado for youths ages 16 to 24, will work with city park staff to learn how to identify noxious weeds and pull, cut, clip, or spray them with herbicide to kill or suppress the weeds, Stark said. Crews will then spread native plant seeds to revegetate the area.
Work likely will begin in May and extend into June, over a three-week period, Stark said.
"What's exciting about this is that noxious weeds have such great proliferation, and to have a dedicated crew working for several weeks in the park means we'll be able to make a big impact in terms of the ecological health of the park," he said.
Before applying for the grant, city park officials mapped out the location of noxious weeds in the 1,300-acre park, to target the greatest need.
Noxious weeds are detrimental to native plants and wildlife, Stark said, and park workers have limited resources in treating large expanses.
Removing such weed species is a popular Great Outdoors Colorado funding project, Segerstrom said, because of the harm the plant causes. But the partnership to address the situation won't just benefit the environment, he said
.Members of the Mile High Youth Corps who will work on the project are enrolled in AmeriCorps, a voluntary program supported by the federal government, foundations, corporations, and other donors to provide public service work to meet community needs.
Participants will learn about land management, earn certification to apply herbicides, and provide voluntary community service in fulfilling AmeriCorps duties, Segerstrom said. They can earn an Education Award, a voucher that can be used to pay for future college tuition or to reduce existing student loans.
"This project is really critical because members need service projects to earn those hours and get their award," Segerstrom said.
"So this investment by the city of Colorado Springs and Great Outdoors Colorado is sending people to college and giving people economic independence by reducing student loan debt through service to the community."