We'll See You Here in the New Year!
The new year is off to a great start here at the Garden of the Gods, and we're already getting some great attention! Over at Forbes Advisor, Colorado Springs was listed as one of the best places to travel in 2023 with the Garden of the Gods and the Visitor Center's various tour options being specifically mentioned must-see attractions! Getting recognition like this never gets old, but it also never goes unappreciated; the Garden of the Gods is a beacon of Colorado's natural beauty, and it's an honor to be able to represent that.
Checking in on the new Gateway Café!
On top of all of that good news, we're also super excited to introduce our new café, the Gateway Café! Led by chef Laura Cookson, this comfortable, accessible, and downright delicious eatery is here to make your visit to the Garden even more memorable! I had the chance to sit down with Laura and ask a bit about her background, what drew her to the Garden, and what she's most looking forward to, and here's what she had to say:
"I am a born and raised Colorado Springs gal. I left the Springs when I went to CU Boulder for college, got a degree in English and Psychology, graduated, and moved to be a teacher in Spain for a couple years. I came back to Denver to become a chef and got my culinary degree at Johnson and Wales. From there, I became the head chef and recipe creator for a meal planning company called Dream Dinners. Eventually, I decided to move back to the Springs with my husband (who is also from here) to be close with our families and bought a house.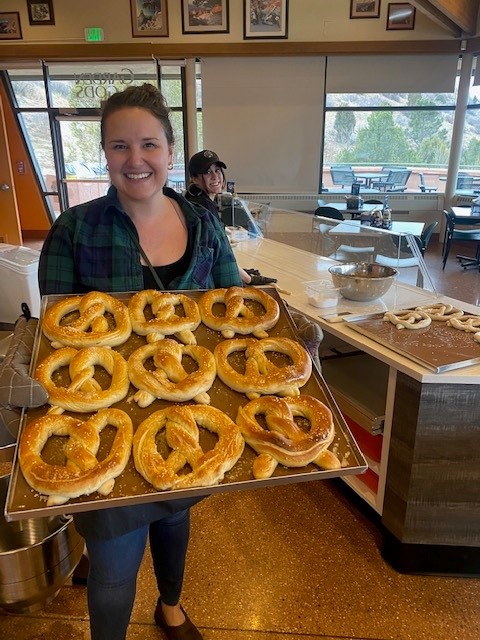 After moving back here, this job opportunity opened up, and I knew I wanted it. I have always loved the GoG, running the trails here growing up and would often go on hikes with friends and family. So for me, what has drawn me here and excited me the most is reconnecting with my community and making the GoG the best it can be for both tourists and locals alike.
As far as the menu goes, I am excited to provide high quality and tasty items to help fuel visitors as they go exploring the beautiful park. Arguably, we have the best view in town, so it is our goal to provide food that will only enhance that experience."
It's clear that Laura is just as excited as us for the new year, and we hope that you are, too! From travel recommendations to new culinary experiences, here's hoping that this is just the beginning of a great year full of new beginnings and LOTS of visitors! Be sure to check out Forbes Advisor's full list of the Best Places To Travel In 2023, stop on by to the Gateway Café, and here's to a wonderful year!